Donald Cerrone had an awesome reaction to his fight with Robbie Lawler
Author: BJ Penn
Date: July 29, 2017
Former UFC lightweight title challenger Donald Cerrone suffered his second set back in a row at tonight's UFC 214 event in Anaheim, California.
"Cowboy" suffered a close, and hotly debated unanimous decision loss to Robbie Lawler on the evening's main card.
Shortly following his setback to the "Ruthless" one, Cerrone took to Instagram where he sent out the following message to his fans.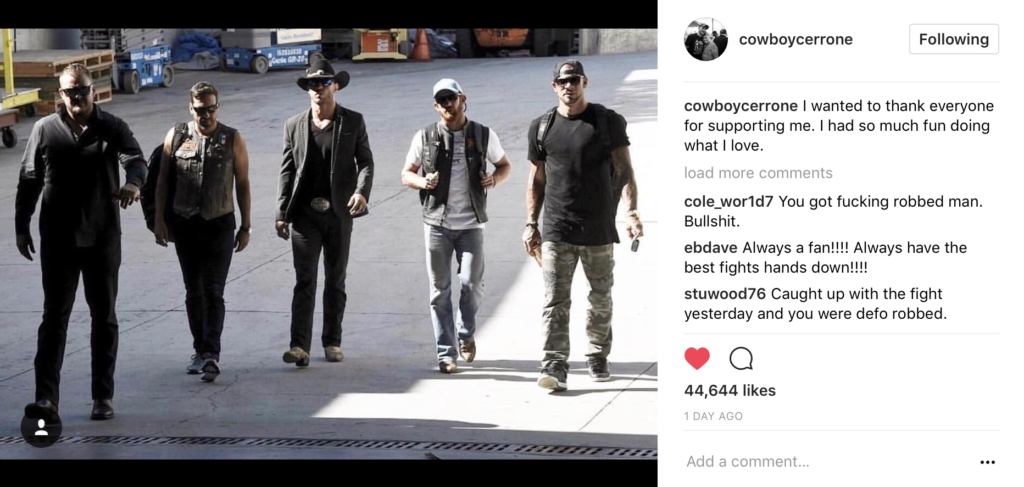 To view the full article as it appears on BJPenn.com, click here.
UFC 214 results: Robbie Lawler vs Donald Cerrone fight recap
Author: Andrew Richardson
Ultimate Fighting Championship (UFC) Welterweight kickboxers Robbie Lawler and Donald Cerrone battled last night (July 29, 2017) at UFC 214 inside Honda Center in Anaheim, California.
It's been almost exactly a year since Lawler lost his title. He took a good amount of time to recover from that knockout loss — his first in a decade — and last night "Ruthless" looked to return to the cage in violent fashion. Cerrone's situation was actually pretty comparable; he didn't lost a title, but Cerrone was stopped via strikes to the head for the first time in his career. Only one fighter could bounce back, and both were motivated.
Lawler burst out of the gate with a massive combination that stunned his opponent. Cerrone attempted to hang onto the clinch to avoid damage, but he ate a number of short shots and elbows from the former Welterweight champion. Cerrone ultimately survived the initial blitz, but he took some damage in the process.
Cerrone fought back to land some good shots in the clinch, but Lawler kept on the offensive. Working relentlessly, Lawler kept throwing shots, whether it was knees in the clinch or his long left hand.
Smartly, "Cowboy" adjusted with a takedown that put Lawler on his back. Lawler was able to scramble up after Cerrone passed guard, but "Cowboy" answered with a solid elbow and kick.
It wasn't enough to win him back the round, but Cerrone was far from out of the fight.
Cerrone opened the round with some nice kicks then cracked Lawler when he tried to close the distance. After those shots, Lawler was much less interested in crashing in to close distance. Cerrone was able to land with his long kicks, whereas Lawler was comparatively inactive. On the whole, Cerrone landed some hard kicks — but nothing unbelievably devastating — while his opponent pretty much took the round off.
It was tied up heading into the final frame.
Lawler went after Cerrone to start the final round, throw lots of hard left kicks and stalking his opponent. Cerrone fired back, but he was the one backing away from the exchanges, and Cerone's hands lowered to his liver after eating the body kicks.
Cerrone was really on the defensive. He planted with the occasional quick punches or takedown attempt, but neither were enough to deter the "Ruthless" fighter. Lawler just kept advancing, throw kicks to the body and good combinations to the face. Cerrone was just a bit more active, but Lawler's power edge was obvious, and it seemed like he was the more effective man by the end of the bout.
The judges agreed, awarding Lawler the unanimous decision victory.
It's hilarious to say considering how aggressive and wild Lawler's early assault was, but he actually used a really measured approach. It was a smart tactic, as Lawler took advantage of his opponent's habit of slow-starting. Cerrone is tough in the pocket, but there is literally no one happy to brawl with a fresh Robbie Lawler.
When the knockout didn't materialize, Lawler allowed his energy to recover. He was generally unconcerned with Cerrone's offense, as he blocked the most significant shots and let Cerrone take the round. That primed him for an aggressive third round, and Cerrone just couldn't handle his physicality and power.
That's high-level experience, the kind of stuff you learn from multiple five round title fights.
Cerrone fought well in this bout, but he simply couldn't deter Lawler. When able to play his game, Cerrone picked his shots very well and was hiding his attempted high kick well. Unfortunately, when Lawler really pushed hard, nothing Cerrone did could slow him down.
Once Lawler got close, Cerrone was out of his element.
Realistically, Cerrone did a lot of things right. He tried to jam Lawler's approach with front kicks, counters, and takedowns. It wasn't enough, but it was the right strategy that gave him a real chance to win and made this a close fight.
To view this article as it appears on MMAMania.com, click here.
Lawler-Cerrone gets rescheduled for UFC 214
Date: July 3, 2017
The long-awaited matchup between former UFC welterweight champion Robbie Lawler and Donald "Cowboy" Cerrone has a new home, as the bout has landed on the stacked UFC 214 card at Honda Center in Anaheim on July 29.
Originally scheduled for this Saturday's UFC 213 card in Las Vegas, an injury forced Cerrone from the bout, forcing it to be rescheduled for later this month.
In the UFC 214 main event, which airs live on Pay-Per-View from Honda Center, it's the long-awaited rematch between UFC light heavyweight champion Daniel Cormier and former titleholder Jon Jones. Plus, Tyron Woodley defends his welterweight crown against Demian Maia, and a new women's featherweight champion will be crowned when Cris "Cyborg" battles Tonya Evinger.
To view this article as it appears on AU.UFC.com, click here.
GRUNT STYLE TEAMS UP WITH UFC FIGHTER DONALD "COWBOY" CERRONE
Date: June 5, 2017
CHICAGO – Grunt Style is excited to announce a new member to the Grunt Style family; #8 UFC welterweight fighter Donald "Cowboy" Cerrone.
The American spirit has been one of a nation that refuses to back down and Cerrone is no different through his willingness to fight anyone, anywhere. This spirit also aligns with the Grunt Style ethos of pride in self, in military and in our country.
Cerrone sports a 32-8 record in the Octagon, but there is more to this Denver, Colo., born brawler. Cowboy is an avid outdoorsman, spending time hunting, scuba diving and taking out his ATVs.
"Cowboy truly encapsulates the American spirit both inside and outside the ring," said Daniel Alarik, owner and founder of Grunt Style. "We are excited to have his as part of our Grunt Style family."
Cerrone will make his first official debut with Grunt Style at Grunt Fest 5 "Mile High Mayhem" in Colorado Springs, Colo. on June 10 at BooDads Beach House Bar and Grill. Come out to the event to meet him and many other special guests that also make up the Grunt Style family.
Catch Cerrone in the ring during his next fight July 8 for UFC 213 in Las Vegas, Nevada, where he will face off against Robbie Lawler.
To view this article as it appears on AmericanGrit.com, click here.